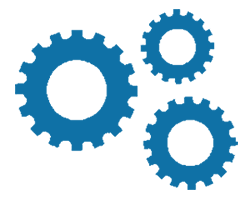 RSB's Gear Transmission unit provides in-depth product support to clients based on its vast industry experience and expertise. It manufactures an extensive range of fully finished gears at its Pune plant that is strategically located to cater to diversified industry sectors inclusive of Commercial Vehicles, Passenger Cars, Tractors, Pump, Engine OEM's. RSB also Designs & Manufactures the Automotive transmission Gear boxes, Steering Gear boxes and Planetary gear boxes. RSB is renowned for its customer services such as, fast turn around and individual attention to complex orders.
RSB is offering Gear Boxes for Small Commercial Vehicles with variety of combination of product features viz. Torque, Clutch Dia, Reverse gear with Constant mesh / Sliding mesh mechanism & PTO etc. The company has Designed, Developed, Tested & Validated the Gear boxes.
The Gear boxes are manufactured & supplied to OEM clients for their various vehicle applications. The state-of-art manufacturing, Assembly & End of line testing (EOL) ensures the end customer's expectations are met.
The extensive service support to SPDs are essential in meeting the spare parts requirements & ensuring the vehicle is ON road always without any hassles. This is further supported by service team to handle any Field issues.

Fully synchronized transmission (Except reverse)
Fully synchronized transmission (Except reverse)
Suitable up to 260 dia clutch (inertia of 0.01 kgm2)
Low noise level (<80DB) with optimized Gears
PTO provision
Suitable for LHD & RHD vehicles, Amenable to AMT
Three options for 3rd point mounting
Clutch actuation Cyl mounting on both LH and RH sides, CSC provision
Split clutch housing for flexibility in adoption on different vehicle configurations
Oil change interval: - 60K kms
| Torque | 1st | 2nd | 3rd | 4th | 5th | R |
| --- | --- | --- | --- | --- | --- | --- |
| 175 NM | 4.72 | 2.77 | 1.66 | 1.00 | 0.85 | 4.74 |
| 190 Nm | 4.45 | 2.62 | 1.52 | 1.00 | 0.85 | 4.47 |
| 210 Nm | 4.72 | 2.77 | 1.66 | 1.00 | 0.85 | 4.48 |
| 230 Nm | 4.45 | 2.62 | 1.52 | 1.00 | 0.85 | 4.22 |